International Senior Advisor, Executive Council
USA
Dr.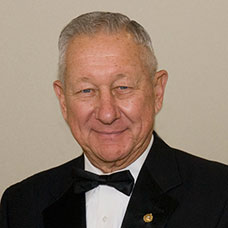 Stan Michalski, Jr., distinguished Emeritus Professor of Music and Conductor of Bands at Clarion University of Pennsylvania, forged a distinguished career spanning 55 years as a conductor, educator, performer and clinician-adjudicator and active member of national and international music associations. 
Michalski received his B.S. degree cum laude in Music Education from the Pennsylvania State University in 1956. In 1958, he was awarded a Master of Education degree and in 1966 earned the Doctor of Education degree from the Pennsylvania State University. He was selected as the first candidate for the Band Conductor Assistantship Program under the mentorship of Dr. James W. Dunlop. Prior to his professorship at Clarion University, Dr. Michalski served as Supervisor of Music in the public schools of Harrisburg, PA from 1956 to 1958, and from 1959 to 1961, held a similar position in Mifflintown, PA.
He is the author of numerous published articles on music education, bands, and low brass, and was the founder and conductor of the Clarion University Summer Band and Jazz Workshops and Band Front Clinics. He was the first recipient of the Clarion University Student-Alumni Golden Eagle Award for his contributions in furthering the reputation and best image of Clarion University.
Dr. Michalski serves as Coordinator of Instrumental music for the Diocese of Charlotte, North Carolina and Adjunct Professor of Music at Winthrop University where he serves as Associate Conductor of the Carolina Wind Orchestra.